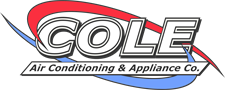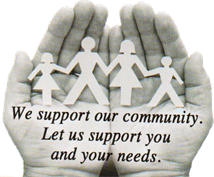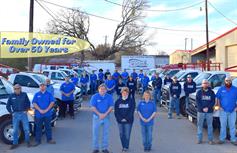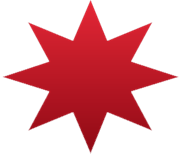 Spring Into Summer Special
HVAC

Make the smart choice! Choosing the right air conditioner for your home is never easy, but trusting Cole's Air Conditioning & Appliance Store is the first step. The next step is to take a look at the advantages. Designing, installing, and servicing Trane Heating and Air Conditioning Systems is our business, making customers happy is our goal. We do both very well with a great deal of care and dedication....Resulting in the largest number of totally satisfied customers in the Athens and surrounding area. All of our technicians are fully certified, and factory-trained to repair your equipment right....The first time! So for dependable service and quality products, trust Cole's Air Conditioning & Appliance store....Why settle for average?

Were your utility bills high this past summer? Did you know your utility rate may be 30% higher than a year ago? Well, right now is the best time to replace your air conditioning system and cut those high utility bills. Cole Air Conditioning and Appliance is a member of the TXU Authorized Dealer Network, meaning valuable TXU rebates are available to you when qualifying high-efficient A/C equipment is used to replace your old system. One call to Cole Air Conditioning will save you money, cut your utility bills, offer financing with approved credit, and help you receive your valuable TXU rebate. Cole Air Conditioning and Appliance offers--EVERY DAY--the lowest prices and best service guaranteed....Your local "Trane" dealer with 24-hour quality service you can count on.

You can save up to 50% on your cooling and heating bills by replacing an old 6.00 SEER system with a new Trane 14.00 SEER system. Right now is the best time to replace your old system with a new Trance system by taking advantage of special promotions
and financing options.
With all the clutter and options out there, how do you make heads or tails out of choosing a heating and cooling dealer? Well, it just got easier! Just look for the
Trane Comfort Specialist Logo.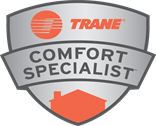 It lets you know these dealers have met Trane's rigid criteria and careful scrutiny for the quality of their products, expertise, and service. Cole's Air Conditioning & Appliance Store is proud to be your Trane Comfort Specialist Dealer in the East Texas area. We have undergone extensive training and adhere to this level of customer service that Trane represents. Trane has been building top-quality comfort products since 1913, and manufactures their products with the toughest specifications and the highest standards. They test their products over and over again, so you don't have to. Remember, it's hard to stop a Trane! They're reliable, durable, and built to last.

Imagine 12 months of comfort from the coldest nights to the hottest days. That's what a high-efficiency system from Trane gives you every day of the year. Homeowners and businesses everywhere have turned to Cole's Air Conditioning & Appliance Store for the comfort, energy efficiency, and reliability they deserve. Your family's comfort is important to you and it's equally just as important to us. When it comes time to invest in a new HVAC system, you want to put your home's comfort in the hands of a seasoned professional; a dealer with the knowledge and expertise to give you "peace of mind" you deserve, from installation and service to customer service. Why settle for average? Call us at Cole's instead.

There truly is no place like home, especially when your family can enjoy comfort all year round. What is comfort? Comfort is knowing that you own a Trane high efficiency product, during those cold nights when you don't have to reach for that extra blanket or those summer months when the temperature outside is sweltering, you're as cool as a cucumber inside your home--that's comfort! Comfort also comes with knowing that you won't break into a cold sweat when you see your heating and cooling bills. And a Trane perfectly balanced system is the best way to get the most comfort and highest efficiency. With Trane's energy efficient matched comfort systems, you will enjoy years of trouble free operation and energy savings. Remember,
it's hard to stop a Trane.

At Cole's Air Conditioning & Appliance Store, our concept is that if you treat people right, do your job right and stand behind your work, people will respond by repeat business and referrals. All of our technicians are EPA-Certified and well-versed in repairing and installing all types of HVAC systems....All makes and models, from forced air, gas and electric furnaces, heat pumps and humidifiers to air conditioning systems, boilers, ventilation systems, thermostat replacement, split systems, zoning systems, custom sheet metal fabrications, complete kitchen appliances and design, gourmet accessories and planned service agreements....We do it all! Cole's Air Conditioning and Appliance store set the standard for quality, dependability, reliability, service and support. Remember, it's hard to stop a Trane! We'll be glad to answer any
questions you may have.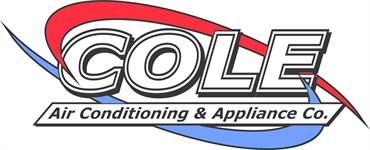 Did you know that a home comfort system is made up of individual parts; and even though each component is separate, they're all designed, engineered, and integrated to work together as a system? A perfectly balanced system is the best way to get the best comfort and highest efficiency. When you match a Trane air conditioner or heat pump with a Trane variable speed furnace or air-handler, you can be sure you've installed a system that is efficient, durable, and reliable. Trane manufactures heating and air conditioning systems for every size and type of home. So whether you are building, remodeling or just replacing, be sure and ask for Trane!

HVAC Preventative Maintenance

Please call us to ask for your Preventative Maintenance Check-Up. It's one of the most important appointments you can make. If you are presently one of our Planned Service Agreement customers, you know how important this agreement is and how much it can save you yearly. One of the easiest ways to keep your equipment and appliances working at peak performance is a "Planned Service Agreement", which allows us to keep little problems from turning into big repairs. You will also enjoy priority service 24 hours a day in case of emergencies, longer equipment life, lower utility bills, and higher efficiency. Join the ranks of satisfied energy savings
agreement customers today.
A Cole Air Conditioner ENERGY SAVINGS AGREEMENT provides both Precision Tune-Ups
AND Service Benefits:

• Semi-Annual precision tune-ups
• 15% Discount on system repairs
• Never pay overtime--guaranteed
• Trained/Certified/Qualified Technicians
• Protects system's factory warranty
• Agreement is transferable--
(to new homeowner only)
• Year-round comfort and peace of mind

All Maintenance Contract
Customers Will Receive

• 24 Hours Emergency Services
365 Days Per Year
• No Overtime Charges
• Discounted Prices On Replacement Parts
• Honest, Efficient Service
Spring Maintenance For Air
Conditioning Will Include:

• Change Filter(s)
• Clean Condenser Coils
• Clean Evaporator Coils (Package Units Only)
• Check Refrigerant Pressure
• Check All Electrical Motors And
Lubricate (if applicable)
• Check Electrical Components and Tighten All
Electrical Connections
• Clean Blower Wheel Check Amperage
on Compression and Motors
• Check all Belts and Pulleys (if applicable)
• Blow Out Condensate Drain Lines
• Check Sequence of Operation


Fall Maintenance for Heaters Will Include:

• Change Filter(s)
• Check Heat Exchanger
• Check Gas Pressure
• Check and Clean Burners (if applicable)
• Check Limit and Safety Controls
• Check Gas Valve
• Check Pilot Assembly
• Check Burner Operation
• Check Electrical Components and Tighten All Electrical Connections
• Check Combustions Air Box and Motor
• Check All Electrical Motors and Lubricate
(if applicable)
• Clean Blower Wheel(s)
• Check Heat Strips (if Electric Heat or Pump)
• Check for Corrosion Build Up
On Burner Section
• Check Amperage on Electrical Motors
• Check Belts and Pulleys (if applicable)
• Check All Connections for Gas Leaks
Cole Air Conditioning can calculate what your energy costs are for heating and cooling your home with 3 easy steps: